Yummi Design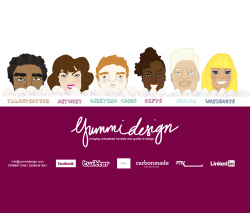 Nadine Walker
We are a relatively young company whose primary aim is to bring unimpaired quality and honesty to design. We want our customers to be able to communicate their vision through great design. Our customers have included, the 'I Will Tell International Film Festival', 'D&J Roofing and Solar' and 'The Ascension Trust' to name a few.
Our design and illustration operates on a request basis, you want it, lets us know and we'll do our best to get it done for you.
We await your call and look forward to working with you.
Email - info@yummidesign.com
Phone - 07968 817248
Specialties - illustration, design, greeting cards, corporate identity, artwork
Skills - Photoshop, Illustrator, InDesign, Contemporary,