Correx Signs 4mm Single Sided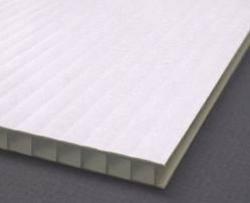 Also referred to as Huntsman fluted display, Estate Agents Board and Corex board.
Correx Fluted display Board or Estate Egents Board is available in 4mm and 6mm thickness boards. This is a twin wall Fluted display board made of polypropylene plastic sheet that is lightweight, cost-effective and recyclable, perfect for indoor and short-term temporary outdoor use up to six months.
Correx can easily be drilled, riveted, nailed, be attached by suction cups, glued, double sided tape, hung or Velcro backed, and even staple gunned. By far the most popular way is staked as per estate agent "for sale" signs. Double sided printing onto Correx is also possible.
Correx is well suited to a wide variety of display applications, being both economical and weatherproof, yet lightweight and easy to wipe clean. This makes the Correx Fluted Display Board ideal for the following indoor and short term outdoor uses:
An ideal display for the following uses:
•Temporary Signs
•Campaigns
•Indoor POP (Point Of Purchase) Display Boards
•Exhibitions
•Event Graphics
•Folding Displays
•Indoor POS (Point Of Sale) Display Boards
•Traffic or Road Signs
•Trade Shows
•Real Estate For Sale / To Let Signs
White Correx is a stock item any other colour required will need to be specified on Get Free Quotation as a special request.